How We Work
When you retain Burke & Thomas, you're not just hiring a lawyer – you're hiring a team of problem-solvers dedicated to finding solutions for you. We take a communicative, cooperative approach to every personal injury case. Guided by a lead attorney, our entire team works together to investigate, research and build your legal strategy. We pride ourselves on being accessible and available to answer your questions anytime, but we also take care of the legal details so that you can focus on what's really important – your wellness.
We understand that every case is unique and has its own challenges, but our attitude toward our clients never changes: we're here to listen to your story and guide you through the complicated process of obtaining compensation. Our process is meticulous and thorough; we'll do whatever it takes, including hiring investigators and working with top accident re-constructionists, to build a comprehensive case for you. Let us handle the details so that you can concentrate on finding the medical care or other assistance you need.
At Burke & Thomas, we handle all personal injuries on a contingency fee basis, meaning you'll never pay a penny out of pocket – we're compensated as a percentage of any recovery we obtain on your behalf.
It takes time to get fair compensation from any insurance provider, which is why we're up-front about the difficulty of the process. We are prepared to work with you as long as it takes to get the money you need to pay for any damage caused by your accident. In the meantime, we'll help you maintain financial stability by talking to creditors and the insurance company on your behalf, negotiating ways to get your bills paid. And while not every case ultimately goes to trial, our attorney team is composed of experienced litigators who are completely prepared to represent you in the courtroom – a fact that we can and will use to ultimately obtain greater compensation for you.
Burke & Thomas offers free consultations, both in-house and off-site. Call our office at 651-490-1808 or 800-985-7273 or contact us online. Language services are available.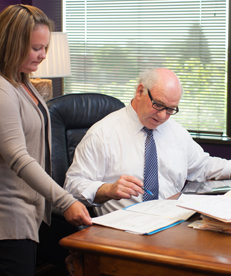 Burke & Thomas explained how the case would work, and they were very honest about how long it would take. They were very straightforward. It must have been four years after the accident that we settled, but Burke & Thomas had told me right from the get-go that that's how long my type of case could take. They didn't lie to me about anything, which I really appreciated.
– Antone S.
Former Personal Injury Client