Personal Injury
Motorcycle
It's an unfortunate truth: insurers, judges and juries are often biased against motorcyclists – even when riders are injured through no fault of their own. At Burke & Thomas, we harbor no such prejudices. We know that motorcyclists have the same legal rights as car and truck drivers – and we're prepared to work to get you fair and just compensation.
Our lawyers have decades of experience dealing with motorcycle cases, and we'll put that experience to work right away. We'll bring in expert investigators to help us gather the evidence; we'll review and piece together the results to build you the strongest case we can. Though not every case ultimately goes to trial, our attorney team is composed of experienced litigators who are prepared to represent you in the courtroom – a fact that often gains us leverage at the negotiating table.
We know how devastating motorcycle accidents can be, which is why we strive to take the pressure off you by negotiating with insurance companies and medical creditors on your behalf. This allows you to focus on the issue of utmost importance: your wellbeing and obtaining the appropriate medical treatment.
Take a look at our "How We Work" page for more information on our process.
Burke & Thomas offers free consultations, both in-house and off-site. Call our office at 651-490-1808 or 800-985-7273 or contact us online. Language services are available.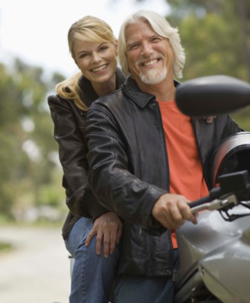 My daughter was living in Brainerd, MN at the time [of my accident]. I don't know how they got in touch with each other, but she flew out with John, who paid her way. I thought that was a tremendous thing. She and I are very close, and it was extremely helpful and really uplighting during what happening. From there, Burke & Thomas became my lawyers.
Dianne K.
Former Personal Injury Client